Customized routes
The school offers school transport service to children in a totally personalized way. Routes are built at the beginning of each school year and children are picked up and droped off to their Parents or Guardians at their doorsteps.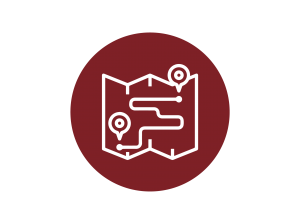 Extensive itineraries
The routes run from Azeitão, passing through Quinta do Conde, Coina, Paio Pires, Torre da Marinha, Seixal, Amora, Fogueteiro, Pinhal de Frades and Fernão Ferro.
In case children live in more distant places, what we can do is define meeting points in areas that are as close as possible to the children's homes but within the limits of the practiced itineraries.
Extended hours
We know that Parents and Guardians have increasingly challenging professional lives and, many of them, work in Lisbon, which forces them to leave home very early and arrive quite late.
Our school transport starts at 6:30 am and only ends around 8pm.
Punctuality
The school driver, in addition to being duly licensed to transport children, is a very responsible and punctual person.
Safety
Our vehicle is duly licensed for the collective transport of children, complying with all safety requirements.
Monitoring
Parents and guardians can monitor, in real time and on google maps, where is the vehicle in which their children/students are.